Getting Started at Globalgasm:

Globalgasm is about spreading love and good vibes.
This is an event for PARTICIPANTS. Not spectators.
You do not have to participate on cam, but we expect everyone to masturbate for the cause.
This is not a show, it is focussed, world-wide intent. We are all here to feed off each others' sexual energy. We are here to heal the planet.
PLEASE read the links and text at Globlagasm.com.
The Gathering
Watching Cams
Broadcasting
'Gasming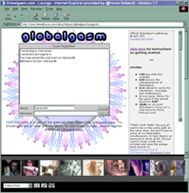 1) The Gathering
a) Launch the Live Audio (expired)
b) Visit the Globalgasm Video Lounge (expired)
(You must be logged in to CitizenX.com first.) CitizenX membership is free.
From 7:45 to 8:30 (PST), The audio from TheRealHouse living room will be live as Halcyon and crew explain the event and set the mood. CLICK HERE to launch the live streaming audio and hear what this is all about. The pre-gathering chat and audio serves to get us all in the same mental space.
(if you miss the explanation, try the text & links on Globalgasm.com)
After that, you'll hear the audio from Halcyon's room. The music playing will be from radio.citizensex.com (thanks Infamous!) and serves as the unoffical soundtrack. We can all be listening to the same music (and occasional panting) at once.
2) Watching Cams
While NOT required, some people choose to particpate in Globalgasm while on cam. They are sharing their sexuality because they enjoy sharing. Be respectful and supportive of all glorious creatures who add to the sex energy mix.
Cam visuals and streaming audio are tools for us to help visualize the worldwide Globalgasm participants. But remember that these are merely tools. The connections we aim to feel transcend the audio and visual senses.
***
Since I live there, We use TheRealHouse as a hub for the event. The main webcam and audio is free, but if you would like access to all 24 of the cams (video + audio) then you need to subscribe to CitizenSex.com.
Membership fees help pay for Globalgasm's free audio and video bandwidth as well as help support all the DigitalIntimacy.com projects.
3) Broadcasting
a) To broadcast, you need to get a free membership at CitizenX.com (takes 60 seconds). You don't need to broadcast to be a participant. You only need to share a mental space.
b) Once you've registered, you need to set up your Video Settings in yourCitizenX Profile (link is in the top navigation).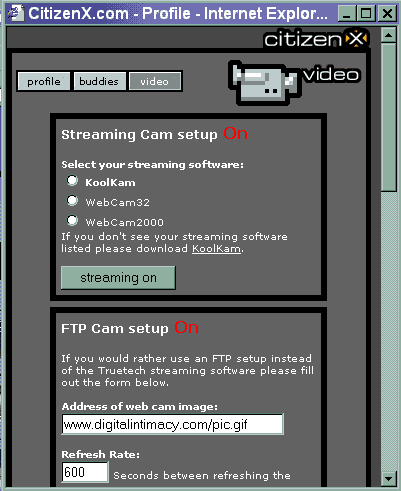 We recommend KoolKam software for broadcasting. Select KoolKam in your settings.


You can also use any FTP webcam software by selecting "FTP" in the video settings.


If you don't have a cam, you can use any static image of yourself you have on the web (under 10K, please) by entering that image in your FTP settings.


If you would like to use a simple "participant" default image. copy and paste this URL in the FTP field (like the above screenshot): http://www.digitalintimacy.com/pic.gif


Hit submit and then return to the Globalgasm Lounge.


NOTE: if you don't appear to be broadcasting, you may need to log out and re-log in to citizenx.com and make sure you have the little checkbox next to the camera selected.
3) Gasming
There is no "ending time" to Globlagasm.
For kicks, we're gonna try to give 9:15 pm as a target time for 'gasming. This is just a goal for those that requested it.
The energy flows all night long! 'Gasm all you like. Lots of people return to the chatroom after they've added their energy top the mix and then change their chatroom name to "Username-gasmed." We invite everyone to hang out and share in the post-gasm rush. (But, honestly, the majority of people pass out soon after.)
If you are confused as to the "why?" of Globalgasm, check the links and text at Globlagasm.com.
WELCOME!
-Halcyon